Experience has taught us that providing care home activities and opportunities for social interaction are really important for quality of life. Our Activities Coordinators are dedicated to hosting fun and stimulating nursing home activities for all our residents.

Keeping active and engaged is one of the best ways to live well. We aim to create a friendly, social environment at Wellcross Grange with care home activities that enrich the lives of all our residents and promote wellbeing.
We have Activities Coordinators who use their energy, ideas and considerable experience to deliver a lively programme of nursing home activities that takes into account residents' individual interests and abilities.
Family Activities
They like to involve families in the activities, wherever possible, which the residents really appreciate. Most people thoroughly enjoy taking part in our care home activities, events and entertainment, and always have the choice to do as much (or as little) as they wish.
Tailored to Individuals
The social care programme on offer is varied, interesting and enjoyable, chosen by our residents and tailored to their needs and wishes. Whatever your particular interests, we're certain there will be something that appeals to you.
Activities Available
The long list of nursing home activities includes themed lunches, arts and crafts sessions, games and quizzes, making Christmas and other decorations, movement to music, picnics, Pets as Therapy visits, ball games, flower arranging, card making, baking, charity events, hand massage, cooking and tasting sessions.
We welcome guest entertainers too who provide singing and musical recitals, magic shows and various productions.
We can arrange shopping trips to Horsham or the local garden centre, and outings to local places of interest. We take full advantage of the beautiful gardens when planning nursing home activities and enjoy BBQs, garden parties, blackberry picking, feeding the ducks, bulb planting and more.
Care Home Activities Coordinators
Whatever our residents' passions and interests are, our care home Activities Coordinators are keen to put on nursing home activities that they enjoy. Our job satisfaction comes from resident happiness and wellbeing. We aim to host engaging activities that help fulfil our residents' physical, emotional and spiritual needs.
Our activity planners take the time to get to know our residents and the activities and hobbies they individually enjoy. They also introduce residents to new, fulfilling activities wherever possible. We monitor resident participation and engagement with our care home activities too. By regularly reviewing our activities and engagement with them, we can support all our residents to enjoy their time at Wellcross Grange as much as possible.
Moreover, we offer one to one nursing home activities for residents who are unable or choose not to participate in group activities.
Typical Care Home Activities & Events at Wellcross Grange
Below are some of the regular nursing home activities that take place at Wellcross Grange.
Religious service and study
Dog therapy with resident therapy dog Grizelda
Discussion groups
Flower arranging
Memory Lane group
Music & Movement
Poetry reading and book discussion
Themed lunches
Musical productions
Hairdressing and beauty care
Current affairs discussion group
Educational and cultural events
Spring Fayre
Easter-themed lunch
Musical performance
Cream Tea garden party
Come Dancing
Halloween themed lunch and fancy dress
Music concert, followed by buffet supper
Christmas tree decorating
Christmas party with entertainer and Music
Hand bells
Nightingale singers
Music and Memory
Here's some footage of our Music and Memory activity when caring for people living with dementia. This particular example is from our sister home. The video is best viewed on full screen, which you can do using the expand icon in the Vimeo player.
Contact us today on 01403 790388 to discuss your situation - we are here to help you every step of the way. Alternatively, you can use the 'Contact Us' form to get in touch.

Exceptional Care
Wellcross Grange Nursing Home
CQC Overall Rating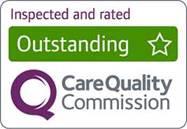 Published on 10th August 2022

See the report

chevron_right
Recommendation
9.9
Out of a maximum possible score of 10
(as at July 2022)