Areas We Serve
We understand that many older people prefer care homes that are closer to their home, friends and family. Wellcross Grange Nursing Home mainly takes in residents from the areas surrounding Horsham, including Ashington, Burgess Hill, Crawley, Haywards Heath, Henfield and Lindfield.
Our cosy care home is located in Slinfold, a beautiful village on the outskirts of Horsham. The traditional Georgian Style building overlooks our cheerful and well-kept grounds, where many ducks roam freely.
From our quaint location, we treat residents with kindness, dignity, respect. They are free to walk the grounds and take part in lots of enriching activities. There are always lots of tasty meals, snacks and drinks on offer, alongside comfortable accommodation.
Our skilled nursing staff work as a committed team to provide the best care possible for each and every one of our residents. They are always nearby to provide physical and emotional support.
If Wellcross Grange sounds like it could be right for you, get in touch and book a visit today. We'll be more than happy to introduce you to our family and show you around our pleasant home.
Below are some of the local areas where a lot of our residents come from.
Ashington
We are a short 15-minute drive (11 miles) from Ashington via the A24. Alternatively, we are also very accessible by public transport.
Burgess Hill
We're around a 30-minute drive from Burgess Hill (18 miles) via the A272 and A24. You can also get to us quite easily via public transport.
Crawley
We are located 11 miles away from Crawley, which is about a 20-minute drive down the A264. There are also great public transport options if you don't drive.
Haywards Heath
From Haywards Heath, we're just a 25-minute drive (17 miles) along the A272 and A24. If you don't drive, we're easy to reach by public transport too.
Henfield
We're a short 25-minute drive (13 miles) from Henfield along the A24. Our nursing home is also very accessible from Henfield via train, bus and taxi.
Lindfield
We are a 35-minute drive (20 miles) from Lindfield along the A23. You can also get to us easily via public transport.
Somewhere Else In The Local Area?
Above are just some of the locations we take in residents from. Why not get directions and see if Wellcross grange is in a good location for you. If you think we could be right for you, contact us, and our friendly team will be happy to take some time to show you our lovely facilities.
Exceptional Care
Wellcross Grange Nursing Home
CQC Overall Rating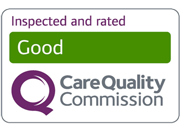 15th July 2019, under previous ownership
* No rating under current ownership, until next inspection results
See the report

chevron_right
Recommendation
9.9
Out of a maximum possible score of 10
(as at October 2020)
Contact us today on 01403 790388 to discuss your situation - we are here to help you every step of the way. Alternatively, you can use the 'Contact Us' form to get in touch.