Care Home Crawley
Wellcross Grange is a picturesque care home near Crawley, West Sussex. We're just a 20-minute drive from the centre of Crawley if you want to come and visit us.
With experienced and caring staff, as well as a beautiful location, our nursing home is ideal for anyone in the Crawley area.
Wellcross Grange Care Home
Situated in a charming small village a stone's throw away from Crawley, we will provide social, emotional and physical care for your loved ones.
With a team of carers, chefs, nurses, housekeepers and even activity planners, we ensure our residents have everything they need to live comfortably.
We work hard to make our residents feel valued and fulfilled in our care home. Every resident is treated with dignity and respect by our staff. Moreover, we create individual care plans for each resident because we know everyone is different.
It's important our residents feel that our care home is their home, and we help them stay connected to you. We have safe visiting options as well as facilities for video calling, so you can always get in touch with your loved one.
Transition
We know that moving into a care home can be an emotional process, even if it's close to home near Crawley. That's why our highly trained staff make residents feel welcome from day one.
With comfortable living areas, stunning gardens and plenty of social activities on offer, your loved one will settle in quickly.
Independence is important at Wellcross Grange, and we encourage our guests to spend their days doing things that make them happy. And, that's not too hard with our entertainment facilities, delicious food and relaxing communal areas.
Nursing Home Facilities
At our care home near Crawley, we provide exceptional nursing care, residential care, respite care, convalescent care, palliative care and dementia care.
Residents have lots of comfortable facilities too. Each room has its own en suite and access to nurse support 24-hours a day. We also offer both private and individual rooms to accommodate singles or couples. Our home isn't uniform either. Every room has its own unique character, and we're sure there's one you'll like.
Our gorgeous Georgian style care home can accommodate up to 45 residents. With sociable communal spaces, well-maintained grounds and relaxing dining areas, we're sure your loved ones will be comfortable here.
Find out more about residential facilities.
About Crawley
Crawley is a large town and borough in West Sussex. It's located 28 miles from London and 18 miles from Brighton. The town has great transport links including, Gatwick airport (one of Britain's busiest airports), which sits at the edge of the town.
Crawley To Wellcross Grange
Wellcross Grange Care Home is based in a beautiful location on the outskirts of Horsham. Our stunning care home is ideal for anyone looking for a care home near Crawley.
We are located a 20-minute drive from Crawley. Meaning it's not far to come and visit. If you don't drive, a train and bus from Crawley will drop you off just down the road from us.
Does Wellcross Grange sound like the right place for you? Contact us, and our friendly team will talk to you about any questions you have.
Exceptional Care
Wellcross Grange Nursing Home
CQC Overall Rating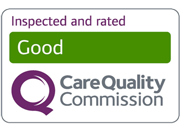 15th July 2019, under previous ownership
* No rating under current ownership, until next inspection results
See the report

chevron_right
Recommendation
9.9
Out of a maximum possible score of 10
(as at October 2020)