Good food makes people feel good and the care home food at Wellcross Grange is delicious. Mealtimes are a really important part of the day and our care home menu is full of nutritionally balanced, tasty meals that our residents really enjoy.
Our qualified and experienced chefs cook up a wide variety of appetising and well-presented meals. We use fresh ingredients which are locally sourced by our nursing home food whenever possible.
The menu is created with input from residents; after all, it is their home. It encompasses a blend of traditional cooking with some exciting international dishes.
We are always happy to cater for special diets and personal preferences and love nothing more than celebrating birthdays and other special occasions. Family parties are also encouraged.
When weather permits, we enjoy a barbeque or buffet in the garden where staff, residents and their guests gather to enjoy a tasty social event.
For breakfast, residents have a choice of fruit, cereal (including proper porridge), toast or a cooked breakfast, served with tea or coffee and fruit juice. At lunchtime, there's a three-course meal with a choice of two hot dishes daily. A light supper is served every evening.
Throughout the day snacks, and hot drinks are available, with home-baked cakes in the afternoon.
Most of our residents choose to eat their meals in the bright and welcoming dining room. Although for those who prefer to eat in their own room we're happy to accommodate this. Our nurses and care home staff provide full assistance for every resident that needs it.
Care Home Menu (Sample)
Starter
Soup of the Day or
Waldorf Salad
Main Course
Lancashire Hot Pot or
Chicken Passanda with Pilau Rice
All Served with Seasonal Vegetables and Potato Selection
Dessert
Lemon Meringue Pie and Cream or
Selection from Sweet Trolley
Afternoon Tea and Cake Suppers
Homemade Soup and Selection of Sandwiches or
Jacket Potato with Choice of Filling or
Homemade Scotch Egg with Seasonal Salad.
Individual Dietary Preferences & Needs
We take great care to ensure everybody enjoys our care home food. We want our residents to eat tasty meals in a comfortable environment at a time that suits them.
We also cater for dietary needs, like food allergies or if our residents need a coeliac or gluten-free diet. We also cater for vegans and vegetarians.
Not many people like every type of food and drink, which is why we give our residents lots of options.
We regularly talk to residents about the food and drink they would like on the nursing home menu. From their feedback, we update our menus with dishes and beverages they want. That includes traditional English meals as well as international foods like pizza, curry and more.
We understand that everyone is different when it comes to food. Some people eat three meals a day, while others will eat less. We make sure each resident is comfortably happy, healthy and nourished with great food and drink.
We also know that people don't work like clockwork, and although we do have set meal times, we can cater for residents with particular needs.
Nutrition And Hydration
Great nutrition and hydration are very important for the well-being of our residents. As such, we take great care to ensure that our residents are eating and drinking healthily.
We understand that as people get older, it can be harder for them to cook for themselves. When people experience a loss of sense or appetite, they may lose the motivation to cook. People with conditions like arthritis may find it difficult or even painful.
Our care home food is prepared by our experienced chefs using the best possible ingredients. This takes the potential stress out of cooking for residents. All they have to do is enjoy the freshly prepared meals.
We also take weight loss very seriously. We monitor the weight of our residents regularly to ensure everyone is healthy.
Dining Experience
Many residents enjoy our care home food in our welcoming and relaxed dining room and social spaces.
We encourage eating in these social areas, but sometimes residents prefer to eat in the privacy of their rooms, and we cater to this. We support residents to eat in a way that makes them happy.
The comfortable dining room overlooks our beautifully maintained gardens and is often home to many interesting conversations and laughs over well-cooked meals. Mealtimes are kept as relaxing as possible so people can enjoy their food at their own pace.
Sometimes residents like to help with preparing food and setting up the dining areas. It helps them feel useful whilst retaining their independent living skills. We find that some residents really enjoy cooking, especially when they're making delicious baked goods!
Nursing Home Food For Residents With Dementia
Dementia can often cause difficulty with eating and drinking. This can, unfortunately, lead to weight loss and dehydration.
We take measures to keep any residents with dementia as nourished as possible.
As well as preparing more accessible finger foods, we take many helpful measures to make mealtimes manageable.
We have special accessible eating and drinking equipment, including high rimmed crockery and cutlery that is specialised to help with limited dexterity. We also provide contrasting colour table cloths to help with visual impairment.
We find care home food to be beneficial for people with dementia because senses of taste and smell can help stimulate past memories.
Kitchen & Dining Room Hygiene
Hygiene is crucial when it comes to our care home food, and we place great importance on maintaining a sanitary environment. Our catering team are all trained in food safety and hygiene and ensure a dining environment where residents can eat and drink safely.
Contact us today on 01403 790388 to discuss your situation - we are here to help you every step of the way. Alternatively, you can use the 'Contact Us' form to get in touch.

Exceptional Care
Wellcross Grange Nursing Home
CQC Overall Rating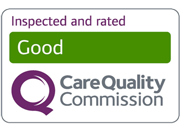 15th July 2019, under previous ownership
* No rating under current ownership, until next inspection results
See the report

chevron_right
Recommendation
9.9
Out of a maximum possible score of 10
(as at October 2020)