You are most welcome to visit our care homes by appointment. Simply give us a call or fill out the form and we'll get in touch with you. If you have any additional questions that you would like answered, please contact us via telephone or our enquiry form. We look forward to hearing from you.
Address:
Wellcross Grange,
Five Oaks Road,
Slinfold,
West Sussex
RH13 0SY
General Telephone: 01403 790388
Email: management@wellcrossgrangenursinghome.com
If you have an enquiry or would like to find out more please use our contact form to the right or below if you're on a mobile device or contact us today on 01403 790388 to discuss your situation - we are here to help you every step of the way.
Exceptional Care
Wellcross Grange Nursing Home
CQC Overall Rating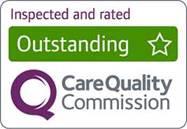 Published on 10th August 2022

See the report

chevron_right
Recommendation
9.9
Out of a maximum possible score of 10
(as at July 2022)