Care Home Burgess Hill
Wellcross Grange is a care home near Burgess Hill in West Sussex. Based a short 30-minute drive from the centre of Burgess Hill, our location is ideal for anyone looking for a care home in this area.
With compassionate and experienced care staff, we make residents feel at home from day one.
Wellcross Grange Nursing Home
Our care home is located in a gorgeous small village not far from Burgess Hill. Wellcross Grange is an ideal care home for anyone in this area.
We treat all our residents with the utmost dignity and respect, aiming to make them feel welcome from the moment they arrive. We also know that everyone is different, which is why we provide tailored care plans to help each individual settle into a comfortable life with us.
Our incredible team of staff includes nurses, carers, chefs, housekeepers and activity planners. All of whom work hard to make residents feel valued and fulfilled. With lots of activities and entertainment on offer, there's always something for your loved ones to enjoy doing.
We also believe it's important to stay connected, which is why we provide
safe visiting and video call options to help you keep in touch.
Transition
We understand that moving into a care home can sometimes be difficult. Which is why our compassionate staff provide emotional and social support to help your loved ones settle into our home comfortably.
With spacious grounds, lots of social activities and luxurious living spaces, it won't take long for your loved ones to feel right at home with us.
Independence is important in later life, and we encourage residents to spend their days doing things that they enjoy. That will include eating delicious homemade food, strolling the beautiful grounds and much more.
Nursing Home Facilities
At our care home near Burgess Hill, we provide nursing care, residential care, respite care, convalescent care, palliative care and dementia care.
We have many facilities that make later life more enjoyable too. Every resident room includes an ensuite and has access to nurse support 24 hours a day. Both shared and private rooms are available depending on preference and they're not uniform. Each room is different, and we're sure there will be one you'll like.
Our beautiful care home has room for 45 residents. With comfortable communal areas, spacious grounds and lots of entertainment on offer, your loved ones will settle right in.
Explore our residential facilities.
About Burgess Hill
Burgess Hill is a town and civil parish in West Sussex that sits very close to the border of East Sussex. The town is one of few to have retained an independent cinema. The Orion Cinema has been open in Burgess Hill since 1928.
Burgess Hill To Wellcross Grange
Wellcross Grange Care Home is located in the small village of Slinfold on the outskirts of Horsham.
Our stunning location is perfect for anyone looking for a care home close to Burgess Hill. Just a 30 minute drive away from the centre of Burgess Hill, we're well within close visiting distance. If you take public transport instead, a train and a bus will drop you off just down the road from our care home.
Do you have any questions about our care home? If so, contact us and our helpful team will answer any questions you may have.
Exceptional Care
Wellcross Grange Nursing Home
CQC Overall Rating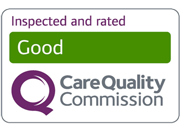 15th July 2019, under previous ownership
* No rating under current ownership, until next inspection results
See the report

chevron_right
Recommendation
9.9
Out of a maximum possible score of 10
(as at October 2020)